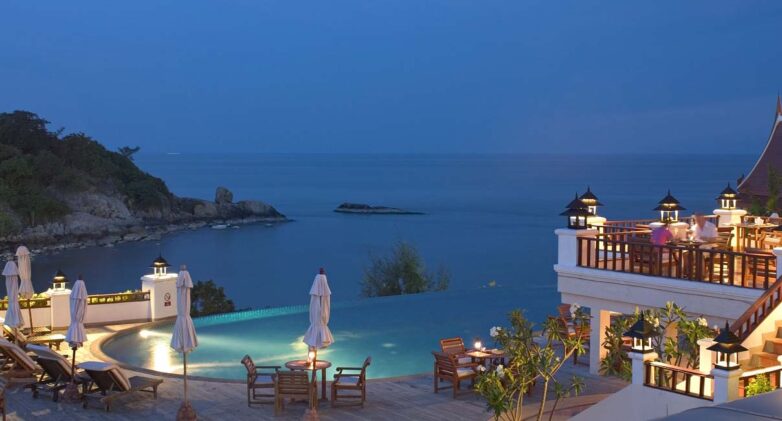 Antalya, Turkey, is one of the most popular destinations for Muslim travelers looking for a peaceful and relaxing holiday. With stunning beaches and a wide range of cultural attractions, there's something for everyone to enjoy. But for those wanting to ensure their stay is in line with their religious beliefs, there is a selection of halal hotels in Antalya. Here we have rounded up the 10 best halal hotels in Antalya so that you can relax and enjoy a worry-free holiday.
1. Granada Luxury Belek:
Granada Luxury Belek is a top halal hotel in Antalya where Muslim tourists can find a comfortable and enjoyable stay. Located just 33.9 km (21.1 mi) away from Antalya Airport, this hotel offers air-conditioned guest rooms with all the necessary amenities for a comfortable stay.
Guests can visit Belek Town Mosque for prayers and find separate prayer areas for men and women at the hotel. Halal food can be enjoyed at the on-site restaurant, and free Wi-Fi ensures that guests can keep in touch with their family and friends back home. Kids can also be kept busy at the amusement park designed specifically for them. For extra convenience, babysitting services are also available.
Whether you're looking for a peaceful holiday away from the hustle and bustle of city life or want to spend some quality time with your loved ones, Granada Luxury Belek is one of the best halal hotels in Antalya that you should consider checking into.
2. Adenya Hotel & Resort:
Adenya Hotel & Resort is an ideal option for Muslim travellers looking to experience a peaceful and memorable holiday in Antalya. This halal hotel Antalya offers luxurious accommodation right on the shores of the Mediterranean Sea, allowing you to enjoy stunning ocean views. The hotel also serves 100% halal food, perfect for Islamic families.
Adenya Hotel provides separate pools for men and women and a private and secluded beach to ensure a relaxed atmosphere. It also has a playground area, perfect for kids, and a Turkish bath and sauna.
Adenya Hotel & Resort is the perfect choice for a romantic and quiet getaway in Antalya. Its serene ambience and spacious guest rooms will ensure a relaxing stay for all its visitors. With its excellent services and amenities, it's no wonder why Adenya Hotel & Resort is one of the top 10 halal hotels in Antalya.
3. Sea Life Family Resort Hotel:
Sea Life Family Resort Hotel is ideal for families seeking a halal holiday in Antalya. The hotel is located directly on Konyaalti beach, one of the cleanest beaches in the world, and has been awarded the Blue Flag Award for cleanliness. With its private beach and swimming pool, guests can enjoy relaxation and fun.
The hotel has received excellent reviews from Arab visitors. People praise the comfortable rooms, the friendly staff and the convenient location. The budget-friendly prices are another plus; you get a lot of value for your money here. Breakfast is also reported to be tasty and plentiful.
Whether you're looking for a family holiday or just a peaceful escape, Sea Life Family Resort Hotel is a great choice. The beautiful Mediterranean beaches, modern amenities and halal food make it an ideal place to spend your vacation in peace and comfort.
4. Lara Barut Collection:
The Lara Barut Collection is a great choice if you're looking for a relaxing and luxurious holiday. The Islamic hotel Antalya offers an all-inclusive experience that caters specifically to Muslim guests. All the food served at their on-site restaurant is Halal, and alcohol-free rooms can be arranged on request.
The hotel's private beach provides the perfect spot to soak up some sun and relax. The property boasts eight restaurants, a spa with Turkish bath facilities, and an on-site gym. Guests will also find two swimming pools – one indoors and one outdoors – plus a kid's club. Located just 10 km from Antalya Airport, this is convenient for those looking for an easy and luxurious getaway.
5. Crowne Plaza Antalya:
Crowne Plaza Antalya is a stunning halal hotel Antalya that offers luxury and convenience to Muslim travelers. Located close to the Antalya Aquarium and Free Trade Zone, this modern hotel has attractive Islamic architecture that catches the eye right away.
The guest rooms come with new furnishings, including comfortable beds and a balcony for guests to enjoy the sea view. It is also a Muslim-friendly hotel so you can enjoy the Halal breakfast in one of its three restaurants. Newlyweds looking for a romantic and Halal honeymoon destination in Antalya will find this hotel an ideal choice.
At Crowne Plaza Antalya, guests can relax and unwind in the big outdoor pool or stroll around the promenade. Other amenities include free Wi-Fi, an on-site spa, and a fitness center. Whether you're planning a family vacation, a business trip, or a romantic getaway, this hotel has everything you need for a memorable stay.
6. Ramada Plaza Hotel:
Ramada Plaza Hotel is a luxurious five-star hotel located in Antalya. Just a few minutes from the Old Town (Kaleici), you can enjoy its stunning view of the Mediterranean Sea from its balconies. The hotel provides an ideal base for Muslim travellers looking for a relaxing holiday in Turkey.
The Ramada Plaza Hotel offers luxurious guest rooms with comfortable beds and modern amenities. You can savour delicious Halal breakfast at the hotel's restaurant, swim in its private beach or pool, or stay fit at its fitness centre. The hotel also provides excellent services, such as car rental and laundry facilities.
Ramada Plaza Hotel is a great choice if you want to stay close to the city centre yet enjoy the beautiful sea view. Its convenient location, luxurious guest rooms and delightful Halal food make it the perfect place for a relaxing holiday in Antalya.
7. White Garden Hotel:
White Garden Hotel is a great option for those looking for a relaxing halal holiday in Antalya. The hotel offers a range of air-conditioned rooms designed in a traditional Ottoman style, ensuring a comfortable stay.
Families can also enjoy the fenced and covered pools, a picnic area, and a lush garden with plenty of greenery. With the rooftop terrace offering views of the Taurus Mountains and the Mediterranean Sea, you can take in stunning sights while enjoying some outdoor activities. The hotel also provides access to water sports for those looking for more excitement.
Guests can enjoy a healthy breakfast each morning with seasonal fruits, free internet, and parking. The hotel is conveniently located just 250 metres from Mermerli Beach and the old harbour, 3 km from Mark Antalya Mall, 5 km from the official theatre, and 14 km from Antalya Airport.
8. Wind of Lara Hotel & Spa Antalya:
The Wind of Lara Hotel & Spa in Antalya, Turkey is the perfect destination for Muslim travellers and families looking for a relaxing holiday. This five-star hotel offers luxurious rooms and an array of amenities, including a sauna spa, outdoor pool, table tennis area, and children playground. The hotel also provides free Wi-Fi throughout the building and access to a private beach and water sports facilities.
The hotel is particularly popular with Muslim travellers because of its Halal buffet. This buffet consists of traditional Turkish dishes with only the freshest ingredients certified Halal by the local Islamic council. After your meal, you can relax in the spa centre and enjoy a massage or a beauty treatment to pamper yourself truly.
If you're looking for a great holiday experience in Antalya, the Wind of Lara Hotel & Spa will not disappoint. With its outstanding facilities, beautiful location, and excellent service, this halal hotel Antalya is sure to make your stay as comfortable and enjoyable as possible.
9. Delphin Palace Hotel:
Delphin Palace Hotel is a luxurious destination for Muslim travellers looking for a relaxing holiday in the Mediterranean. This five-star beachfront property has all the amenities necessary for a comfortable stay. Halal meals are served at the on-site restaurant, and prayer facilities are available for those wishing to practice their faith. Alcohol-free guest rooms are available upon request, and all rooms come with a balcony, offering stunning sea views in some cases. Additional amenities include bathroom amenities, a desk, and a TV with satellite channels. Those travelling by air will appreciate the convenience of the hotel's proximity to Antalya Airport, which is only a five-minute drive away. With its beautiful setting and Muslim-friendly features, Delphin Palace Hotel is the ideal place to escape on your next holiday.
10. Hotel Rixos Downtown Antalya:
Hotel Rixos Downtown Antalya is the perfect choice for your Halal holiday in Turkey. With its five-star amenities and stunning Mediterranean views, you'll have a great time in this luxurious hotel.
The hotel is just 1.5km away from some of Antalya's top attractions, like Antalya Museum, Aqualand, and Beach Park Konyaalti, so you can easily explore these places during your stay. To add to this convenience, the hotel offers a Halal breakfast, an alcohol-free minibar, and an array of family-friendly amenities such as a playground, spa, and pool.
Relax by the oceanfront and take in the breathtaking view of the Taurus Mountains while surrounded by Antalya's vibrant city. After a day exploring the city and its attractions, unwind in the comfort of Hotel Rixos Downtown Antalya.
Experience a halal vacation with all the modern amenities this five-star hotel offers. Visit Hotel Rixos Downtown Antalya for an unforgettable experience!
Conclusion:
After reviewing the 10 best Halal hotels in Antalya, it is clear that there are many great choices for a peaceful and enjoyable holiday. These hotels offer comfortable rooms, excellent service, and delicious halal food. Whether you're looking for an intimate family retreat or a luxurious getaway, you can find the perfect Islamic hotel Antalya that fits your needs. With its stunning beaches, vibrant nightlife, and plenty of activities for all ages, Antalya is the ideal destination to explore and relax. Don't wait any longer and start planning your next holiday in this beautiful city!
Read More: