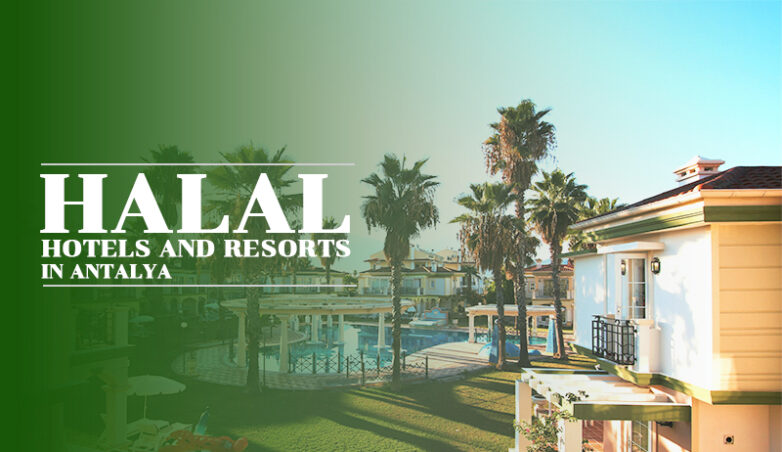 If you're a Muslim and trying to find the best location to spend halal holidays with your family or friends then turkey is best for you. Traveling to Antalya is an optimal way to learn something about Turkey's fascinating ancient history and get delighted at its natural water bodies. Antalya is an ideal venue to go on adventure activities and historical visits. While most days will entail exciting activities, you will have to reserve a nice and comfortable hotel for yourself. We have compiled a set of some outstanding hotels in Turkey (Antalya) which are mainly halal-hotels, i.e. Muslim-friendly services. Don't get worried! These hotels and resorts will accommodate you in the best manner and do whatever they can to keep you happy & satisfied.
Halal holidays are the latest trend observed by hundreds of Muslim tourists, where Halal food is offered with all-inclusive facilities. you can look miles away towards the sparkling Mediterranean Sea from almost all hotels and resorts. Antalya also presents ample stunning landscapes with calming parks suitable for taking an afternoon walk and eye-catching hills. This famous tourist destination is ideal for Muslim couples seeking more of a coastal getaway, with multiple sports, shopping, entertainment, and luxurious resorts to choose from. So from our list following are some of the most exhilarating hotels and resorts to stay in:
1. Adenya Hotel and Resort:
Adenya is a 5-star luxury resort worth visiting and is one of the most prestigious beach resorts amongst tourists. They've established a halal lifestyle and continue to deliver a beach holiday that is expected to remain in your heart for a long period of time. Since it's an all-inclusive Halal hotel, no alcohol is consumed and all offerings are Halal. From separate exclusive beaches to swimming pools for both men and women, they have everything. They also have independent prayer rooms to give you a trouble-free vacation so you don't have to think about the right place to worship. Adenya has a potential of 289 rooms with 11 various styles of rooms, such as suites and De Lux rooms.
They also have rooms that are designed to fit the differently-abled persons, ensuring that everybody has an opportunity to experience a stay in Adenya! They have a huge range of cafes and restaurants serving multiple cuisines and gives you a taste to feel. Staying at Adenya is quite relaxing and also gives you romantic and peaceful evenings to enjoy.
2. Ramada Plaza:
You will discover the Ramada Plaza on the coast of Antalya, near the famous Kaleici. Ramada Plaza provides a selection of rooms to pick from to meet all your desires, from sumptuous rooms to suites. Every room has a view of the ocean or the cliffs. They focus on providing an authentic taste, committed to ensuring a convenient and enjoyable stay at Ramada Plaza. The hotel has both outdoor and indoor swimming to give you a relaxing environment. It also offers recreational activities like table tennis, air hockey, and many more.
They have air-conditioned rooms and every room has televisions, work desks, and many other facilities. You should make a reservation in a room with a balcony surrounding the Mediterranean Sea or the Turkish mountains. It also gives an alcohol-free halal environment with halal foods. Perfect food is available depending upon your mood.
3. Selge Beach Resort and Spa:
It is a 4-star hotel and with a maximum of 719 rooms, varying from economy rooms to exquisite rooms, based on your budget. Both rooms have high-quality facilities such as amazing beds, fast Wi-Fi, etc. Selge is a wonderful resort to enjoy the holidays in Antalya, satisfying the requirements of guests. Selge features private beaches for all genders, as well as a common beach suitable for families. It also has a sunbathing area only for ladies and has an outdoor and indoor pool for women. For me, they have an outdoor pool and a common pool for everyone. This resort also possesses separate Masjids for men and women. This is a resort with all facilities and one can enjoy quality time at this place.
4. Adin Beach Hotel:
It is one of the most popular 5-star certified hotels, they give you a combination of comfort along with luxury because they have set their standards high. Adin is careful in delivering services and makes sure you spend your dream holidays on an amazing beach. The hotel seems to have a total of 377 rooms, with premium rooms presenting water views and Flora Coral rooms offering views of the surrounding flora and the sea. If you're searching for a more discreet and pleasant holiday, there are triplex villas with a private pool, kitchen, and exclusive services to provide you a stress-free environment. Their beach is a certified Blue Flag site which guarantees a clean and healthy beach for everyone to enjoy.
Stay at one of these accommodations in Antalya, Turkey by availing of halal holiday packages and get mesmerized by its beauty. It will definitely mollify your mind and body and would be a good break from your daily routine. Muslim couples also visit these places for a honeymoon to spend quality time. You will find every leisure in Antalya as it is the most famous attraction of tourists and is quite popular because of its astonishing hotels and resorts. Moreover, they are not extraordinarily expensive and have a variety of facilities which you can manage in your budget.
Read More :