People loves food and there is no doubt that they love to discover special and unique taste of food as our living standard hits up. Some people even travel to discover the different taste of food around the corners of the globe. So, Tibetan even got some mouthwatering food that we would recommend you to taste if you are a food lover and discover. Many people take a back when they first trying "Tibetan foods" since it's kind of heavy and greasy. If someone is trying for the first time, they will make it sure that they will be okay after eaten. Once they tasted, they feel like eating again and never get over of it.
1. Tibetan momo: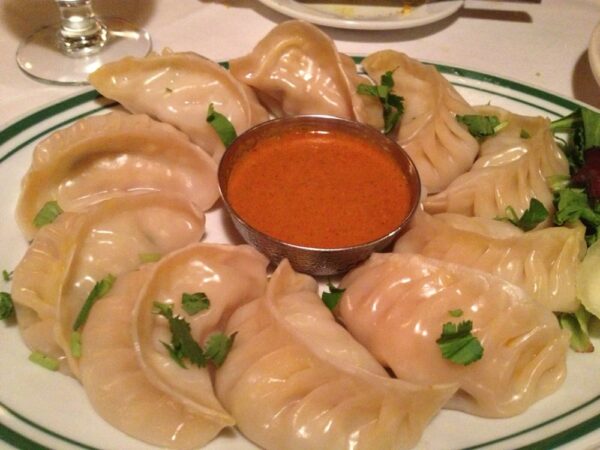 Tibetan momo is a type steamed dumpling popular among the Asians and originated from Tibet. Many western people love eating momos after they discovered this delicious diet. Handmade Tibetan Momo is used yak or beef minced meat and some even prepare vegetable momos for the vegetarians. Normally there are two types of momos: fried and steamed momos. Recipes of Momo are: white flour, water, sometime people will use little yeast or baking soda in order to make dough, more doughy texture. Minced meats of yak (beef, sheep,goat or chicken all can be used), veg Momo:  potato,cauliflower or tofu, finely chopped onions, salt,finely grated black pepper or Sichuan pepper. If you are making the veg momos then you will no need of meats. Mix all together until it's evenly mixed and steam it for like 15-20 minutes. Serve it with chili sauce.
2. Thenthuk: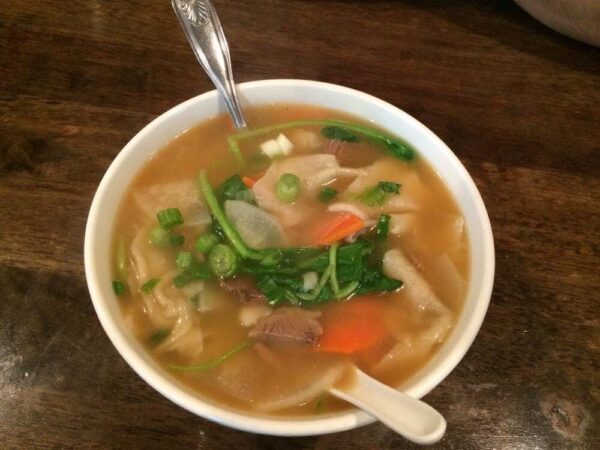 Thenthuk is another type of noodle that conquers a huge place in Tibetan culture, Tibetan people loves to have thenthuk and some even have thenthuk all day (3 times of meals). Almost every part of Tibet will eat thenthuk and each place has their own ways of receipts. Thenthuk is extremely popular among Tibetan because of weather factor since thenthuk can keep people warm. You can make thenthuk as your taste, either veg thenthuk or meat thenthuk. Thenthuk is in Tibetan which mean Then means "pull" and thuk means "noodle". Local people will use their hands to pull the noodle which appears to be tastier than machine pulled.  Recipes of Thenthuk are: dough (needs to prepare before 20-30 minutes of cooking), knead the dough very well until it looks firm and stretchable, then cop the dough into pieces as big as your fist and apply oil on all and cover in a plastic or vessel, broth, meat, onion, salt,garlic,some green vegetables. Prepare soup and wait until its boiling, start pulling the dough and cut with your thumb and indicator finger. Boil for like few minutes and then serve it.
3. Shabaklep:
Shabaklep is a delicious bread that fairly can say, you can only discover in Tibet. Sometime, wondering how clever our ancestor was when it comes on food. Tibetan people loves to eat shabaklep and even some younger generation singer has composed a song specifically on "shabaklep" which clearly indicates who dear this delicious food to our Tibetan. Shabaklep mean meat bread; "Sha "means "meat" and "Baklep" means "bread" in Tibetan. Recipes of Shabaklep are: dough (prepare before 30 minutes or 1 hr for the best result),minced yak meat or beef, onion,Vegetable oil, black pepper, mints. Mix all together until it's evenly mixed, make your dough into medium pieces of round and wrap mixed ingredient into the dough and fried in oil until it turned into brown.  Serve with some sauce or chili sauce for the best taste.
4. Yak Meat: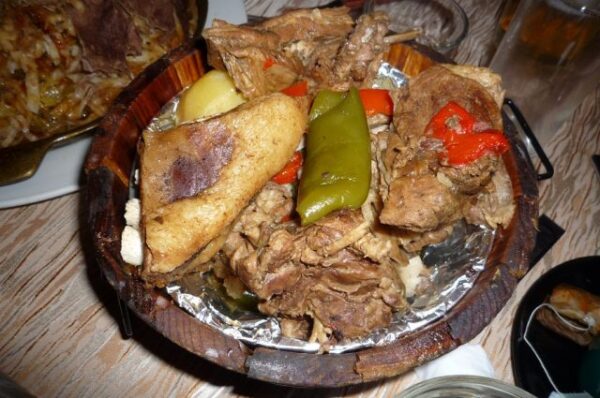 Yak is considered the symbol of Tibet and you will find yaks only on the high-altitude places like Tibet and Himalayas . Yak is physically admirably adapted to the high altitude with larger and bigger lungs and heart than the normal castle in the lower altitude.Yak meat is so popular among Tibetan since it's so delicious and better than any other meat with higher protein and less fats. Specially Tibet yak meat is pure grass fed on the high-cold plateau and many times they are eating those medicine herbs on the mountains. Many people even agree that the meat of yak is better than any other meats like beef, bison with less fats. Yak meat is so juicy. Boil yak meat with broth for more than 30-40 minutes and then serve with chili sauce.
5. Tsampa tibetan food:
Tsampa is the prime stable food of Tibetan people on the plateau and it's made from roasted barley flour. Tibetan called themselves Tsampa eaters which clearly indicates the importance of this barley flour in our day to day life. Tsampa is a fully roasted barley flour which content high level of fiber, many people will say they only wants to eat tsampa coz this food never make them feel uncomfortable and sick. They always feel safe and energetic. Tsampa is an amazingly simple recipes that you only need the roasted flour with milk or yogurt or water, sometime, people prefer sugar, but many go without sugar. Tsampa is best when you serve with butter tea.  Traditional Tibetan eat Tsampa during morning as their breakfast, but people even eat Tsampa whole day (3 times of meals).
If you ever wish to try these delicious foods and many more Tibetan food, then you must have to visit Tibet. We have recommended Conscious journeys as a Best Tibet Travel Agency for all your Travel and Stay Needs. You must have to look their upcoming Homestay packages.
Read More: