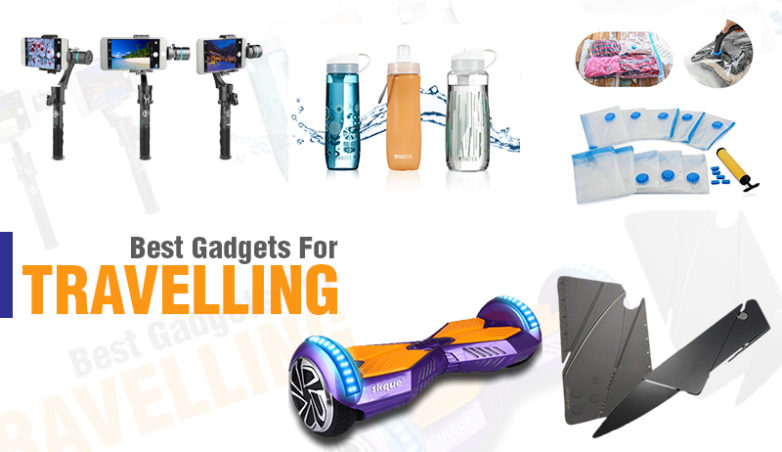 When you are on a go and ready to explore the world you are in dire need of some travel gadgets. Those are a must to carry along keep with your self, instead you face the crisis and regret to miss the list of best gadgets for traveling.
So reading this article will help you from a BIG ALAAAS! and help you to tactile and enjoy the beauty of the unseen. Definitely, when you are going to explore the world, you are bound to see its new colors of life. So better keep your self equipped instead of being surprised by the traveling expedition. Keep these gadgets along and surprise the challenges ahead instead of being surprised and horrified.
I am not going to suggest big-budget shakers, but actually you can save more and enjoy better by keeping them along. So without wasting much time lets jump to five best gadgets that are going to make your tough task of traveling into straight and simple fun.
Compact Travel Vaccum
The very first step towards traveling is packing and definitely carrying huge luggage is trouble to carry along. Especially when you want to enjoy the most and spend the least, your big luggage can be a big hurdle in the field.
So buy yourself the best Compact vacuum that can shrink it all and make it compact. Yes, it's not always luggage that you are carrying along but some excessive air fits in your luggage and makes it huge.
To save your self from all that inconvenience, the market is full of some compact vacuum devices that suck up all the extra air and make your clothes so compact that they can fit in a pea case. And you are left with lots of space to carry along with your self some best gifts and souvenirs
Best 3 Axis Smartphone Gimbal
This gadget is another must-have when you are here to witness the world this Smartphone Gball will help you by being your witness. Yes if have seen a beautiful sight and want to store it in action forever you have your smartphones to capture the moment. But without a Gimball you will actually miss your best friend on the trip who would have clicked your best shot along with your favorite piece of nature.
These Smartphone gimbals are available in various budget options. Still providing you best grip(no shaky clicks and smooth recording while moving). Helps in clicking quality clicks, with auto face trackers, and some with intelligent zooming provide better zooming.
But while choosing your 3x smartphone gimbal, keep in mind that it should have good battery timings and an ergonomic handle for better and easy grip. Moreover, along with other functions, the feature of timelapse is a must to check that especially for the YouTubers and V- Loggers like me. So you can capture it all in the best way slow-motion, hyper-lapse, and motion lapse.
Purification Bottle For Water
This gadget is my favorite and must-have since my last tour to Africa. Where I suffered from a severe stomach infection due to the use of contaminated water. This gadget is a pocket-friendly magician. Thes small bottles have a tendency to clear the contaminated water in no time and make it perfectly ok for drinking.
You can choose any of your choices but Ultralight Purifier by Grayl's is my favorite and this ½ liter bottle is true health saver to me. These purification bottles are mostly equipped with replaceable purification cartridge, and you can use one for almost purifying up to 150 liters of water.
While you are on your traveling track, investing in a water purification bottle will keep you safe from bacteria, different chemicals, and various viruses. Moreover, it will be your money saver as a travel gadget, as once spending here you don't need to spend on bottled water repeatedly.
Hoverboards As Best Travel Gadget
The other must-have in the list of travel gadgets is my all-time favorite, no matter where I am I always keep it along. Yes, hoverboards are the best carriable carriage the modern times have to offer us. This gadget is an equal favorite of kids and adults, while you are carrying your kids along with you on a traveling expedition.
Believe me, keeping along with the best hoverboard for kids will e no less than a blessing. Mostly the kids get exhausted easily and earlier as compares to adults. According to a smart survey, most parents have to rent a vehicle instead of exploring the destination on foot, as kids cant exert that much.
But having a hoverboard on your side can resolve the issue and be your budget saver. As in one charge, it can cover up to 8 kilometers, still being perfectly eco-friendly and so very easy to drive. For any queries or any info about this newest transportation trend Hoverboardsguide.com can be your best stop ever.
This eco-friendly mode of transportation will not only save your taxi tariff but also will boost your travel thrill. Yes, you can be more close to nature instead of being packed in an iron bunker and having a window view. Just imagine that you are hovering around to your favorite points and not only getting amused by the limited visions but actually inhaling the fresh air as well.
So with hoverboards as your travel gadgets in hand you travel is definitely going to be more fun and still on budget. If you are afraid of getting some rough tracks and off-road experiences buy the Best-Allterrain hoverboards and explore the excitement!
Compact Credit Card Knife
These are some cute little cutters that are must-have for adventurous travelers. My favorite is CardSharp2, but there are several more in the market as well so you can choose your favorite too. But I like it due to its sharp blade, potability and camouflage feature. It's so lightweight like 13 grams in weight and so pocket friendly that you can keep that in the wallet with other credit cards.
This tool might be small in size but big in usability. As it can be your purposeful cooking knife and your survivor tool as well in the times of dire need. So keeping it in hand keeps you equipped and prepared for traveling toughs.
Good-Bye Note
I hope this article will favor you in making your journey comfortable and more fun. After all, when you are sparing some time to enjoy life and explore the world you should make full out it. I am sure suggested gadgets are perfectly functional and rightly prescribed to make your travel budget-friendly, more fun, and more convenient.
Read More:
Top 10 Hidden Places in Sri Lanka
The History of Adventure Tourism
8 Great Family Holiday Destinations in the United States