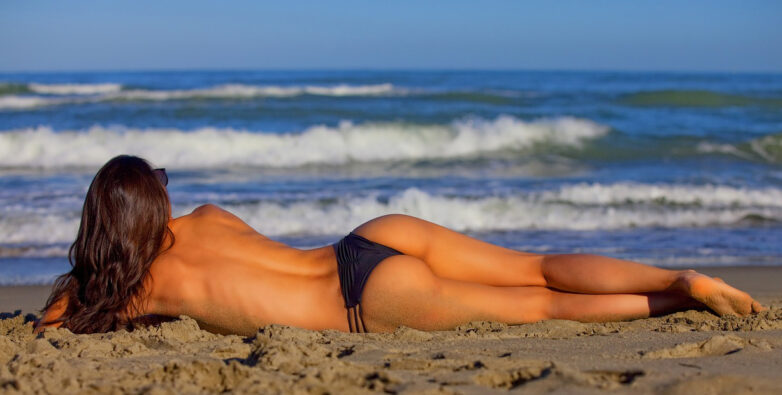 Nude beaches have long captivated the imagination of sun-seekers and adventurers alike, offering a unique and liberating experience for those who dare to bare it all. These secluded stretches of shoreline, where clothing is optional and societal norms take a backseat, provide an opportunity to connect with nature, embrace body positivity, and foster a sense of freedom that few other places can replicate.
While the concept of a nude beach may initially evoke curiosity or intrigue, it is important to approach these spaces with an open mind, respect for others, and an appreciation for the diverse range of motivations that bring people to these idyllic coastal havens.
In this review, we'll look into the fascinating world of nudist beachs, exploring the motivations behind visitors frenzies and illuminating the standards and rules that guarantee a peaceful and welcoming experience for everyone who goes there.
Top 10  Nude Beaches:
Playa Naturista Chihuahua, Uruguay:
Playa Naturista Chihuahua is a famous nude beach, situated in Uruguay, notably on the southern coast of Punta del Este. It is known for its beautiful natural surroundings and pristine white sandy shores.
Over a km long, the beach provides guests with a calm and tranquil setting for swimming in the Atlantic Ocean's crystalline waves and sunbathing. Playa Naturista Chihuahua is backed by sand dunes and vegetation, which adds to its secluded and natural ambiance.
The beach is clean and well kept with separate areas for clothed sunbathing and places for those who wants to remain in their swimsuites. It attracts both locals and tourists who appreciate the freedom and comfort of sunbathing without clothing.
Nida Nude Beach, Lithuania:
Nida Nude Beach is situated on the Curonian Spit in Lithuania, a narrow sand dune peninsula that separates the Curonian Lagoon from the Baltic Sea. Sand dunes, pine trees, and immaculate beaches make up the breathtaking natural landscape at this lovely beach. The beach has a designated area for nude sunbathing, attracting naturists from both Lithuania and neighboring countries. Visitors can unwind by swimming, sunbathing, and enjoying in a tranquil atmosphere.
Nida Nude Beach is known for its clean and well-preserved surroundings, with easy access and facilities such as restrooms and parking available nearby.
Little Palm Beach, Waiheke, New Zealand:
Nudists should visit Little Palm Beach in Waiheke, New Zealand, which is a hidden gem. Waiheke island is known for its beauty. However, the beach is surrounded by luxuriant native flora and features blue waves , making it the perfect setting of swimming and sunbathing while fully clothed. Accessible via a short walk through a scenic forest trail, Little Palm Beach offers a secluded and private experience for naturist enthusiasts.
The beach is unmarked and relatively small, which contributes to its exclusive and intimate atmosphere. Visitors can enjoy the serenity of the beach while immersing themselves in the stunning natural beauty of Waiheke Island.
Nugal Beach, Croatia:
Nugal Beach is a stunning nude beach situated on the Makarska Riviera in Croatia. It is renowned for its untouched natural beauty and crystal-clear Adriatic Sea. Accessible by boat or a 20-minute hike through a pine forest, Nugal Beach offers a secluded and serene environment for naturists.
The beach is tucked away between high cliffs, giving it a feeling in seclusion and quite. In the clear turquoise seas, guests can go swimming, snorkeling, and tanning. For those looking for an adventurous and of the beaten path nude beach experience, Nugal Beach is the ideal destination.
Moshup Beach, Martha's Vineyard, Massachusetts:
Located on the beautiful Martha's Vineyard in Massachusetts, Moshup Beach is a popular nude beach known for its stunning coastline and dramatic clay cliffs. The beach is part of the Aquinnah Cliffs and overlooks the Atlantic Ocean, offering breathtaking views.
Moshup Beach is accessible via a staircase leading down from the cliffs, and it is known for its peaceful and laid-back atmosphere. Naturists can relax on the sandy shores, take leisurely walks along the beach, or swim in the cool waters. The beach is backed by dunes and vegetation, providing a natural and scenic setting.
Sandy Bay Beach, Cape Town, South Africa:
Sandy Bay Beach is another popular nude beach that deserves mention. It's a popular gay nude beach. It is located in Cape Town, South Africa, and is known for its stunning natural beauty and relaxed atmosphere.
Sandy Bay Beach is situated within the Table Mountain National Park, on the western side of the Cape Peninsula. It is nestled between rocky cliffs and offers a secluded and tranquil environment for naturists.
The beach is accessible via a scenic hike along a well-marked trail, which adds to the sense of adventure and exclusivity.
Buhne 16, Sylt, Germany:
Buhne 16 is widely regarded as one of the best nude beaches in the world and is located on the island of Sylt in Germany. It stretches along the North Sea coastline and offers a beautiful natural setting.
The beach is known for its wide sandy expanse and dunes, providing privacy for visitors who want to enjoy the beach in the nude. Buhne 16 attracts both locals and tourists who appreciate the freedom and relaxed atmosphere that the beach offers.
The water can be quite chilly due to the North Sea's cooler temperatures, but many still enjoy swimming or simply sunbathing on the beach.
Haulover Beach Park, Miami, Florida:
On a nice day, thousands of people visit nude beach Haulover. Simply said, according to numerous online and print magazines, Haulover Beach is among the top no-clothes-required beaches in the world. The beach can receive up to 7,000 visitors in a single day. Since clothing is not required, some guests chose to wear it.
Despite being a very small part of the wider Haulover Beach Park, between 66% and 85% of people use the nudist beach. As a result, it is very welcoming to those who desire to go nude.
Nude beach Haulover Park includes Haulover Nude Beach, which is located between the Atlantic Ocean and the Intercostal Waterway.
Lady Bay Beach, Sydney, Australia:
Lady Bay Beach is a secluded nude beach located in Sydney, Australia. Situated near South Head in the Sydney Harbour National Park, this beach offers breathtaking views of the city skyline and the iconic Sydney Harbour Bridge.
Lady Bay Beach is known for its small sandy shoreline, surrounded by rocky cliffs and lush vegetation, creating a tranquil and natural setting. It's a popular spot for sunbathing, swimming, and snorkeling in the clear blue waters.
The beach has designated areas for both nude and clothed sunbathers, ensuring everyone can enjoy the beach according to their preferences.
Wreck Beach, Vancouver, Canada:
Wreck Beach is a renowned clothing-optional beach situated in Vancouver, Canada. It stretches along the coast of the Pacific Spirit Regional Park and offers a pristine natural environment.
The beach is famous for its stunning beauty, with a backdrop of towering cliffs and lush forest. Accessible via a steep trail, Wreck Beach provides a sense of seclusion and privacy.
Visitors can enjoy activities such as sunbathing, picnicking, beach volleyball, and exploring the tidal pools. Wreck Beach is also known for its annual "Bare Buns Run" event, where participants run along the beach wearing nothing but shoes.
Red Beach, Crete, Greece:
Red Beach is a picturesque nude-friendly beach located on the southern coast of Crete, Greece. It is named after the unique red-hued cliffs that surround the shoreline, creating a striking contrast with the turquoise waters.
The beach is accessible via a short hike along a rocky path, adding to the sense of adventure. Red Beach is known for its natural beauty and peaceful atmosphere.
Visitors can relax on the soft red sand, swim in the crystal-clear waters, or explore the nearby caves. While the beach is popular among naturists, it also welcomes clothed visitors, creating a harmonious and inclusive environment.
Know more: Come to the best 20 Beaches in Greece
10 Nude Resorts Around The World:
Here are 10 well-known nude resorts from around the world:
Hedonism II (Jamaica): Located in Negril, Jamaica, Hedonism II is a private haven where you can indulge all your hedonistic urges is what you can anticipate. The place makes you feel at home with helpful staff that is eager to serve you while you explore all that Hedonism II has to offer in terms of sensual delights.
Desire Riviera Maya Resort (Mexico): Situated on the Riviera Maya in Mexico, this all-encompassing hotel with wonderful beaches, activities, unique thematic occurrences, top-notch dining options encourages you to fully enjoy yourself in a unique experience. Make a reservation today and visit the Desire Riviera Maya Resort.
Cap d'Agde (France): Cap d'Agde is a naturist village located in the south of France. This is a thriving tourist destination with sandy beaches like Plage Richelieu, sprinkled with hip beach clubs, and a busy marina surrounded by cafes, bars, and shops. Additionally, there are many family-friendly attractions including Aqualand Water Park and Luna Park Cap d'Agde.
Hidden Beach Resort (Mexico): You are allowed to be as exposed as you choose in the exclusive, adults only Hidden Beach Resort. The resort focuses on providing individualised luxury service. It has 42 beautifully decorated all Beachfront Suites in two-story towers. However, the resort has a seaside pool equipped with a water slide and a sizable beachside hot tub.
Caliente Caribe (Dominican Republic): The Caliente Caribe hotel in Cabrera, close to Puerto Plata, may be as relaxed or as lively as you like. It has lovely accomodations with views of the oceans and easy access to its own private beach. You can feel as liberated as you like wherever you are and whenever you like because this entire resort is clothing optional.
Club Orient Resort (St. Martin): A one-of-located naturist resort on the Club Orient Resort is located on the world famous 1.5 mile long Orient Bay. Each of the 136 roomy Bangalows has access to one of the world's best white sand beaches and crystal clear water.
Vera Playa Club Hotel (Spain): The outdoor pool at the Vera Plata Club Hotel has a hot tub, water slides, and jets. A sub deck with lounge chair is there and a palm trees around it. However, the mini golf course is another amusing option for visitors. They served a variety of Spanish and foreign cuisines in the banquet cafe. There are activity clubs for kids and also evening shows available there.
Couples Tower Isle (Jamaica): This is a magnificent and romantic resort for lovers looking for a tropical holiday. It offers a variety of accomodations, from suites to rooms with plenty of space, all of them are elegantly and comfortably built. Therefore, modern conveniences found in the rooms, include flat-screen TVs, mini fridges, coffee makers, and private balconies with a view of Caribbean sea.
La Jenny (France): In addition to fitness center, there is a hot tub available for the visitors. The cottage has three bedrooms, a fully functional kitchen with an oven and a washer and dryer, as well as coffee maker. An outside dining area allows the visitors to enjoy the ambiance of surrounding regions.
Cypress Cove Nudist Resort (United States): Including a 50-acre lake, 20 acres of leisure space, and 130 acres of preserved wetland areas, Cypress Cove is a 300-acre accomodating to families naturist hotel. 84 villa hotel rooms, 84 appartments , a contemporary RV park, and residential area are all available for your use as lodging. Therefore, the resort offers a wide variety of activities.
Final Thoughts:
Nude beach and nude resort offers a unique and liberating experience for individuals who embrace naturism or simply wish to explore a more natural approach to socializing and recreation. These locations offer a secure and welcoming setting where visitors may let go, connect with nature and promote body positivity.
However, by providing areas where people can take pleasure in sunbathing , swimming and perticipating in a variety of recreational activities without the restriction of clothing, nude beachs encourage a sense of freedom and body acceptance.
By removing societal norms and the pressure to conform to conventional standards of beauty and modesty, these settings encourage self-acceptance and foster a sense of unity among participants.
Read More: