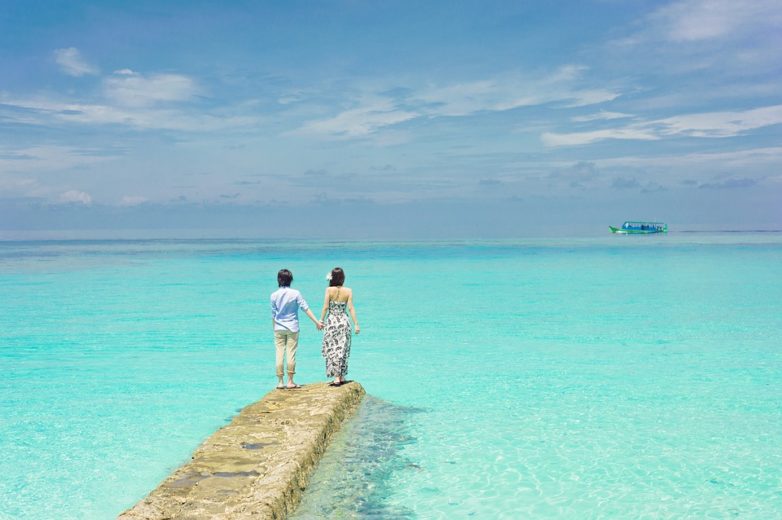 It is the wish of each couple to be together for a lifetime and for this they tie a strong knot of love which is called wedding to make their future bright and loving. On this auspicious occasion, they promised to fulfill their needs together and build a strong bound among both.
When you have made it official then it's time to chill out and for this, you have to plan your Honeymoon trip. The honeymoon is the only time that becomes memorable for everyone and each one should go once in a life for a fantastic adventure. If you are one of them who has recently got married and planning for a love route then don't worry, we have discussed some of the elegant places here that you can visit and make your time valued.
The first thing that hit your mind while preparing for a honeymoon destination is the wonderful natural beauty, romantic weather, and a photographic place. However, to find the perfect place that takes the lovebirds away from the frustrating crowd can be little tricky. So, be with us to find the pleasing destination that will make your trip elegant and outstanding. Here we have presented some stunning and interesting honeymoon destinations all around the world, which will give you the flavor of heaven.
AMERICA – HAWAII (BIG ISLAND):
Let's first talk about Hawaii that is situated in the USA and it would be a great destination for the newly married couple. The main places of attractions in Hawaii are Hawai'i Volcanoes National Park, USS Arizona Memorial, Pearl Harbor, Diamond Head, Polynesian Cultural Center and Mauna Kea. These are such beautiful places that honeymooners must visit when it comes to the tour of America. You will feel amazing here with the cold air and outstanding weather.
HYATT REGENCY ARUBA BEACH RESORT & CASINO:
Aruba is an ideal destination that a couple should visit. You will find perfect weather and beautiful beaches. After a marriage couple love to spend their time at beach and resort for a quality time that they can provide one other. At the Hyatt Regency, the focus is on peacefulness by day, when couples can enjoy the island's fine beaches, the pool and the spa, and fun on night clubs. If you are resort lover, then you can try this Aruba Beach Resort and Casino.
ITALY:
Italy is also one of the top choices for a newly married couple in Europe. The top tourist spots are Colosseum, Grand Canal (Venice), Florence Cathedral, Amalfi Coast etc. You can enjoy your best time here with a lot of fun and excitement. For all those couple who are food lovers, this place is perfect because Italy become famous because of its food. So, what are you thinking about? Which one will be the perfect choice?
THAILAND:
If we talk about Thailand, then we will find the various honeymoon destinations that will give you best memories. Here you will find best destinations that include KohSamui – Full Moon Parties, HuaHin – For A Serene Beachfront Experience, Krabi – For A Luxurious Affair and much more. You can enjoy a lot of time with your lover and enjoy the journey that you never want to forget. You will love your amazing tour with fantastic destinations.
EUROPE – SWITZERLAND:
Switzerland is the first place that many of the newly couples wants to enjoy their honeymoon there. Get inspired by the snowfall and the natural beauty there, you will also feel peaceful environment that couples love to stay there. The main tourist places in Switzerland are Lake Geneva, Swiss Alps, Matterhorn, Mount Pilatus, Lake Zurich, and Jungfrau. As we all know that the weather of Switzerland is really cold so keep the captain america jacket with you so that you will feel amazing and you can enjoy your trip.
LONDON:
London is the best place that you will love to visit at the time of your Honeymoon. If you are going to visit this beautiful place then we must suggest you visit London Bridge that is most famous place there. London Eye, Buckingham Palace, Westminster Abbey, British Museum are also the best places that you will make your honeymoon more memorable.
Read More: Discover the ancient Beauty of Morocco with Virikson Morocco
AUSTRALIA – SYDNEY:
All the new couples who want to travel Australia Sydney for their honeymoon, we must say that it is a perfect decision. You will find Sydney Opera, Harbour Bridge, Bondi Beach, Blue Mountains and much more. Just check the beauty of the places that will definitely give the best memories of your special holidays.
Hong Kong:
As Hong Kong is the very famous place across the world, that's why people supposed to travel to Hong Kong for their honeymoon. It is a very romantic place and you can find different types of places to see like Hong Kong Disneyland, Victoria Peak, Ocean Park Hong Kong and Lantau Island. We must say you can enjoy your best time here with a lot of fun and excitement.
These all are the best honeymoon destinations from which you can choose your perfect place to spend your quality time with your loved one. Book your reservation and be ready to avail the adventure of the world. It would be the great time when you can choose your best destinations and take out some great time for your lover. Take some pictures to make your day memorable and avail the fantastic clothing here on USA Jacket for an elegant appearance.
Read More: