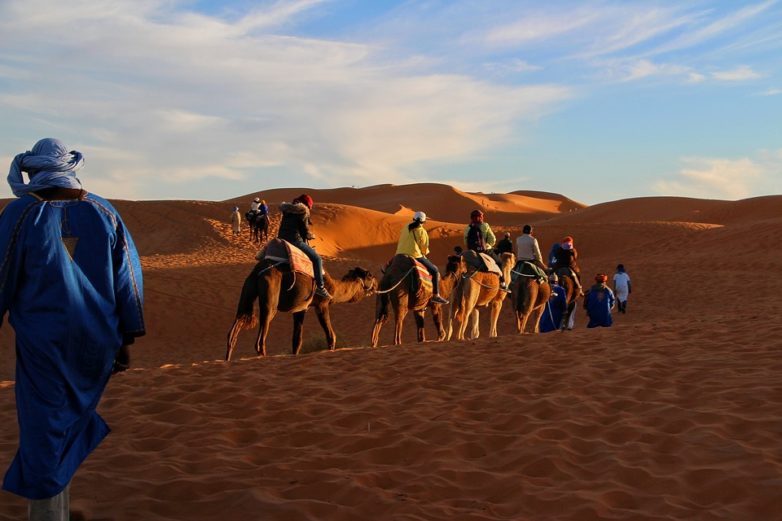 Morocco is a country with some real fantasies. Fascinating view of the stunning landscapes invites everyone to explore the spectacular beauty. Peaks of the Mountains, rough path areas of trekking and sizzling Marrakech makes you fall in love with an African Cultural Kingdom. No other place has the finest blend of Spanish, Roman, Arab, Berber sand French culture. Every medina, street and place reflects it's thrilling history. It evokes the interest of traveller and people get attracted towards it's stirring landscapes. Book your tickets now for the land of colours and culture and spend most memorable holidays with Virikson Morocco Holidays.
Why Morocco?
Camel riding in the dunes of Sahara or trekking to the peaks of the Atlas Mountains that overlooks small towns and villages. Rif Mountains offers a charming sight of the Blue city, Chefchaouen and to know about country's history as well as the modern lifestyle get into in the city of Casablanca. Essaouira is the port city with a windy climate whereas Fez is offering most astonishing walled Medina representing a traditional side of the country.The kingdom is a home for full range climate conditions, from the charming heat of Sahara to the cool breeze at the Mediterranean Sea is something worth visiting. Whether it's about snow-capped mountains, colonial structured Kasbahs or the oases of Desert sand dunes, it offers everything for the people of all age group. Adventure, fun, thrill and experience is all that can be expected in this country. The trip to a regal kingdom of Africa is a real treat for any family and couples for a romantic break.
As the people of the state are very friendly, they welcome tourists by offering a special Mint tea served in little silver glasses. Its aroma gives you a nostalgic feeling and the taste can make you forget other drinks.
Are you ready to let your heart skip a beat and to have a soulful experience of tranquil ambience?Then pick up your phone now and book memorable holidays with one and only Virikson Morocco Holidays. It is a UK based travel company that helps travellers and families to fulfiltheir dreams of life. In a very less time span, theyhave gathered more than 1000 loyal and regular customers.
Benefits of booking with Virikson Morocco Holidays:
Booking with uswill leave you with too many advantages, Visa, flights, short tours and many other essentials of the journeyare all managed by the team. There are different categories to choose from:
City Holidays
Last Minute Deals
Day trips & Activities
Every category has a huge number of packages that are luxury and economical. Amenities and other detailed information is mentioned in the package. City tours to the Rabat or Tangier are also available. The team put every effort to ensure an amazing tour for you in this African kingdom. Families that are looking for kid's friendly environment can enjoy staying in family hotels and couples can have their
ideal date on the rooftop under the stars and get lost in each other's eyes. The place mesmerizes every moment and lets you go beyond your personality to enjoy it.
The company is always looking for your call and feedback of any kind. Experience them by planning your dream holidays with them and you'll never be left disappointed. No matter how bad a day you are having but the services provided by the company can make you feel like an enthusiast traveller. A local guide will accompany you on the roads you travel in the country. Listen to the instructions with attention and keep them in your mind for your own convenience and safety. Cheap holiday, Luxury holidays to the family holidays, everything about the tour and trip is planned by the experts of industry, adding up values to the holidays from many years by utilizing their expertise. Our travel agency is striving each day and working round the clock to get the best out of their mind-blowing services.
Book your Cheap Flights to the place,get an accommodation in any of the luxury hotels in Morocco and don't forget to mention about the guided city tours and other excursions that include wandering around the souks as well as thriving water sports. Tours and excursions are the real fun and they always increase the thrill, passion and excitement among the traveller.
However, it is the time to take a step towards your journey, making the world know about your passion for travelling. Our company is all about customer's experience and ease of client is kept at top of the list. These packages reach to the web or you only after a lot of brainstorming and calculating proper risk factors. Services are beyond the market trends and arrangements are made keeping your interests and requirement in mind. Choose from available packages or call to request for your customized holidays to Morocco.
Read More: