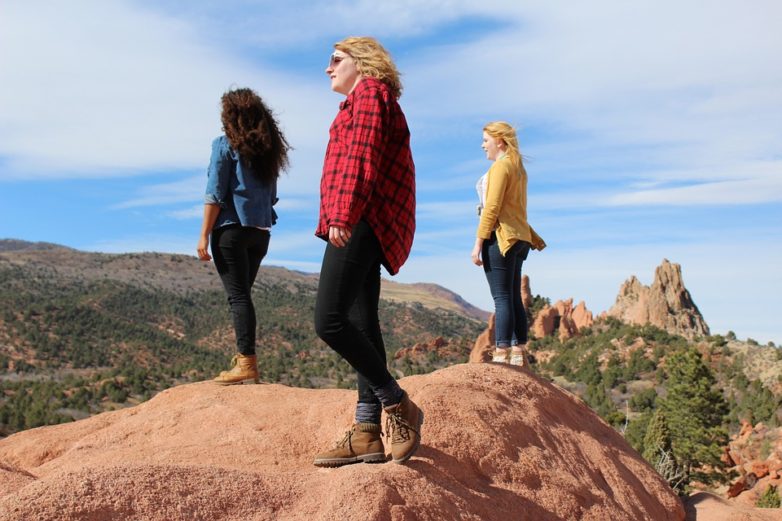 It's summertime and that means it's time to go meet family and friends. If they have the nasty habit of living far away, it's also time to start racking up some frequent-flyer miles. Travel can be fatiguing and we can be forgiven for not being at our best after a long flight. I recently saved enough money, thanks to Cox bundle deals, for a trip back home. Meeting my family and friends after a year had me a bit nervous. I wanted to show everyone that I was doing great at life and the best way to do that is to look great. And that's exactly what I did. Here are 7 fashion tips to help you through the flight and still have you looking on point when you land:
1. Layer Up:
If you're going from a cold climate to a hot one or vice versa, it's always a good idea to layer up. Layers not only free up some precious space in your luggage but are also comfortable in different climates. Layers are always a sensible option when you are travelling, whatever the season. They make you look casually chic while serving as a buffer between you and the weather. Lightweight wool makes the best winter layer base, instantly making you look winter-ready. For summers, a casual pastel button-down works best. At the times when you don't need the extra layer, you can simply tie it around your waist for a nice hip look. Layers afford you a number of options so you can spend time planning out what colors you're going to wear for the base layer and the top layer. In essence, layers save space, look good and are comfortable in-flight.
2. Jumpsuit:
Unless you're always in line for the restroom, jumpsuits are a good travel option. They look good on just about every body type and add a degree of sophistication to your look. Jumpsuits are both stylish and functional when it comes to travelling. It's like wearing your favorite pajamas, only you look ultra-hip. Accessorize with plastic or fabric jewelry and a nice pair of sunglasses to round off a trendy, tasteful look.
3. Coordinating Two-piece Suit:
While it may look like a jumpsuit, its actually 2 pieces, both fashionable enough separately. But pair them together and you get a super-sophisticated look that makes you stand out. You can alternate between loafers on the flight and heels after landing to look party-ready the moment you step off the plane. Its best to use monochromatic prints or stripes to get the most out of this look, while still staying comfortable on the flight, especially if it's a long one.
4. Sunglasses:
Sunglasses are absolutely indispensable when travelling. Not only do they protect your eyes from UV rays, but they also conceal any tiredness in your eyes the flight may have caused. And that's not to mention that a good pair of shades is a fashion statement in its own right. Its best to have black or brown polarized lenses, which confuse overly chatty neighbors when you're pretending to be asleep.
5. Beanies:
When you're going for a super-casual look, always compound it with a beanie. Beanies look good on angular faces, undoubtedly. But they also have a few other tricks. They are perfect for hiding unruly hair from when you were sleeping on the flight and got "bed hair". They also serve as an eye mask for when you want to catch a few moments of sleep. Simply pull it down over your eyes and you're ready.
6. Loosen Up the Laces:
Long flights often cause your feet to swell up to two sizes. Imaging having to re-lace your shoes when it's time to off-board the plane. Boots and sneakers with taller shafts are the perfect answer to this. You can carry loose laces while giving off an elegantly casual vibe. The best part is, they come off in a blink at the security line so you won't be held up for too long.
7. Keep it Casual:
The right graphic T-shirt can turn any jeans and cardigan outfit into a fashionable outfit. For comfort, make sure the jeans have some stretch. You can even wear dark colored jeggings which hide puckering. The cardigan should be a soft weave, because it can get scratchy on the plane. And finally, wear an appropriate T-shirt that expresses you. Just make sure to keep it PG, because there are bound to be children at the airport and on your flight.
There you have it! 7 travel fashion tips to keep your flight comfortable and have you looking great when you land. You can find more creative fashion tips on several TV and YouTube Channels. WOW TV channels, for example, are a blend of over 50 channels covering sports, entertainment and fashion among others. You may be able to pick up a few original pointers from there. Just remember to balance comfort with style.