Hey, are you wondering what you can do on your Greece and Turkey Tour to make it more amazing and interesting. Here are some of the attractions which you definitely should not miss. Of course you go on a holiday to relax and have fun with your family and your loved ones so this vacations will be perfect destination for you. Far from the humdrum of the city life you are going to have fun time at your Greece Turkey tour.
Here in this article you will get to know what are the best attractions which you can visit at your Greece and Turkey trip which you can not afford to miss as if you do so you are gonna regret your decision so now let's have a look:-
Attractions of Turkey:-
1. Erzurum:
Especially a History lover should not miss this place because here you will find historical buildings with ancient architectures which are worth watching also there are some places nearby like Seljuk, Mongol, Ottoman Mosques, Saltuk, and a lot more. Many places are there which is related to Turkey as this place has played a very important role in the ancient history which you might be aware of if you have read about Turkey. So must pay a visit at this amazing place and know more about historical architecture.
2. Akdamar Island:
Akdamar Island is situated at Salty lake Van and mainly this island is famous for Holy cross, church and Armenian church which is ruined now as the time changed but still it is known for its glory. This church is now been converted in museum but still the exterior walls has carvings on it. The breathtaking views all around grabs more attention of the visitors and out of them one attraction is almond tree but you can only enjoy this view in spring season.
3. Pamukkale: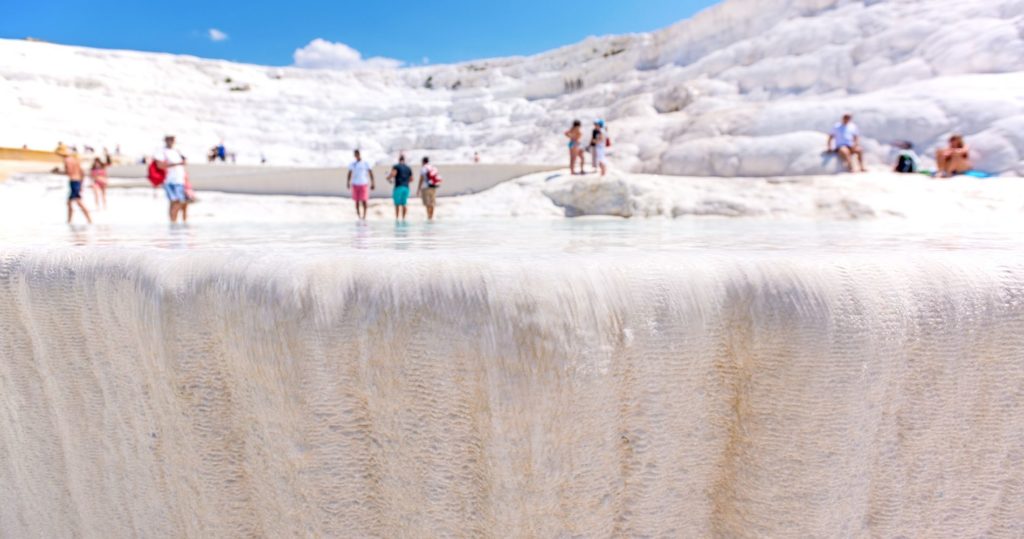 The turkish word for 'Cotton Castle' is Pamukkale and this is one of most famous attractions of Turkey which has almost 2 million visitors as it has terraces which looks like someone has spread cotton everywhere. So you can imagine how amazing this might look. The one thing that makes Pamukkale famous in all over the world is its travertine cotton like terraces and warm springs. Sounds interesting? Ya, it is interesting so do visit this place.
4. Aladağlar National Park:
Aladağlar National Park is another great place which you will find here in Turkey which was established in the year 1995 and this park is also known by the name of mountainous park. So by the name you have got an idea that you can also do trekking at this place or have fun while hiking. So to have an adventurous experience do add up this wonderful place in your visiting places at Turkey.
Attractions of Greece:-
1. Rethymnon:
It is a Venetian Town which has lots of buildings and ancient architecture which shows some reflections of 16th century as well. There are so many romantic locations for couples where they can enjoy which includes a waterfall location which is forever loved location by everyone as you can take perfect pictures at such locations. You can also enjoy fresh feta there which will be served to you with olive oil sprinkle as well as local herbs along with watching colorful views of lively docks.
2. Chania Town;
Chania Town is another best attraction which you will find in Greece at its Old Venetian Harbour. The uncommon architecture if this place attracts the most everyone and this place is so amazing that many of the Hollywood movies and TV series has been shot here. Many people select this place for their honeymoon as they can have a wonderful photoshoot here. Also don't miss out the boating in the colorful boats.
3.  Apokoronas:
Apokoronas is a place that is full of greenery and beaches so here you can sit and relax. Moreover this place is famous for its bread baking tours along with cheese tasting. Also if you wanna have fun with watersports then this place is definitely for you as here are some beaches where you can do swimming and non-swimmers can do all the beach fun activities and enjoy their day. If you wanna learn cooking then there you can do that also as there are cooking lessons taught at Vamos about which many people are not aware of.
4. Santorini:
Did you heard that song 'Tauba Tumhare Ye Ishare'?Ya, it is the same superhit song of the year 2003 from the movie Chalte Chalte and this place Santorini is the original set up of that song. This place exactly looks like a fairyland and is completely amazing place and you should add up this place to your visiting places at Greece. There you will find little cute colorful houses which will mesmerize you with its beauty.
Hope you might have packed your bags and is ready to have fun these vacation on your Turkey and Greece tour and don't miss out to visit any of the above attractions of Greece and Turkey.
Have Fun!!!