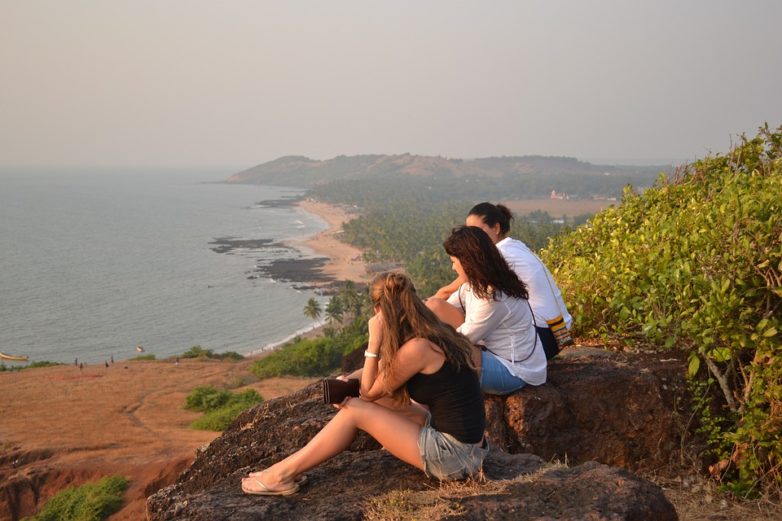 India is full of diverse places to visit and one can select his favourite tourist destination according to his taste. Goa is one such place where a person can spend a quality time with his family or enjoy a solo trip totally in peace. Although the size of Goa is small, still it has many different places to visit and enjoy the time. Due to the popularity of this place, a lot of tourists from all over the world come here to enjoy their time.
Shooting Hub for Movies:
 Not only the tourists prefer this place to spend their vacations but also it has attracted many filmmakers to shoot for their films. A number of scenes of Bollywood movies have been shot here. Whether it is coming of age films like Dil Chahta Hai or multiple types of horror films such as Go Goa Gone, this place has attracted the filmmakers to its land. The list of movies along with the names of the places where movie scenes are shot is given below. These places act as amazing tourist spots other than the ones mentioned in the article further.
DilChahta Hai (2001) – Chapora Fort
The Golmaal Series (2006-2010) – Old GMC Complex in Panaji, Fort Aguada, and Dona Paula.
Honeymoon Travel Pvt. Ltd (2007) – Fort Aguada, Dona Paula, Our Lady of Mount Chapel and Corjuem Fort.
Singham (2011) – Dona Paula
Dum Maaro Dum (2011) – Arpora Market
Finding Fanny (2014) – Parra, Cortalim, Aldona, Assagao, Saligao, and Socorro.
Go Goa Gone (2013) – Mauritian Beach, Rochester Falls
Top 5 Destinations:
One can spend his entire time at the number of beaches Goa has to offer. And he can also see waterfalls or plantations to enjoy the creativity of nature in Goa. The environment is really soothing and it completely relaxes every visitor who come here to spend his time. You can involve yourself in water sports or can just sit around on your favorite beach. Here is the list of popular places which a person can see while he is on his visit to Goa:
Anjuna Beach –  Anjuna Beach is popular for the rave parties and exorbitant lifestyle. It is also popular for the Wednesday flea market where you will find a variety of stuff at low costs. It is located in the North part of Goa and has always been one of the favorite tourist destination for people from all over the world. Near to this beach is Chapora Fort and Vagator beach. As we enlisted above, Chapora is the same place where few scenes of the Hindi Movie, Dil Chahta Hai were shot.
Dudhsagar Waterfalls – This is one of the tallest waterfalls of India and is located on Mandovi river. One can visit this place either in their own vehicle or public transport to have a look at the scenic beauty of the waterfalls. During the monsoon season when the water falls from the top it seems as if a river of milk is flowing at its full speed. It is a wonderful picnic spot for any family and also a couple of national parks are located near here to get close to wildlife. These waterfalls were also featured in the movie Chennai Express, where Shahrukh Khan meets Deepika's father for the first time.
Spice Plantations – As we all know that India is a Land of Spices and there is availability of wide variety of spices in Goa. Not only the place is popular because of spices but also the eco-friendly way of living attracts people from all over the world. The whole area is full of vegetation and it relaxes everyone who visits here. You can taste the spices in the local food, and can also learn various organic farming techniques using these spices. This is a wonderful place to refresh yourself and learn a new way to live life.
Baga Beach – If you aspire to have a beach holiday then Baga Beach is one of the most popular beaches in Goa. It is located near Calangute beach and one can have a wide range of fun here. A person can do water sports activities or do a number of things such as shopping. Various shops for foods, palmistry, tattoos, and many types of clubs are present here for a person to enjoy his time. In the morning, one can experience a cool breeze and also enjoy an amazing sunset in the evening. It is popular for parties and celebrations at late night.
Ozran Beach – This is one of the most famous picturesque beaches of Goa and is located near Vagator beach. It is also one of the most popular nude beaches in India, which is not very easily accessible. There is a small hill area here and the surroundings is simply amazing to enjoy. What makes this beach different from other beaches in North Goa is its white sand, which looks beautiful when you visit there.
One must visit Goa at least once in his life and spend some days in the beautiful environment of the place. This place is really a heaven on this planet and one can have a lot of fun here.