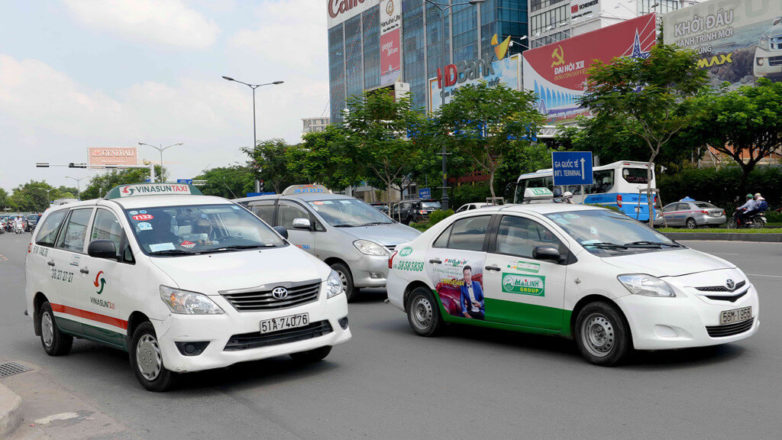 Hanoi is always a perfect destination for anyone love travelling as there are a lot of attractions as well as things to do. Moreover, Hanoi is also famous for its delicious street food and also traditional food, as well as for the friendliness of local. With the traces of times, tourists will have a lot of emotion when visiting this lovely city.
However, it could not be denied that there are a plenty of Hanoi scams making the trips of tourists uncomfortable. Hanoi has a size bunch of shrewd scammers, almost everyone who has been here has met one.
As a local guide, I always want to bring the best things of Vietnam to foreign tourists, so i will show a list of Hanoi scams and how to avoid them so make sure you will have the best trip in Hanoi.
1. Transportation scams:
Taxi scams:
Taxi is the first Hanoi scams as most tourists choose this transportation.
The first thing every tourist must notice that there are a lot of fake taxis in Hanoi and most of them are tampered meters, which runs faster than normal ones. Therefore, taxi drivers can increase the fare.
Mai Linh and VinaSun are taxi brands you can trust
Moreover, some will claim to take shortcuts but in fact longer routes. The longer the trip is, the more one they can rip off travellers. Some of the drivers demand for their tips after the trip.
How to avoid:
Only choose trustable brand taxi for even short drive. Mai Linh (with green color in brand) and VinaSun (brand with white color) are the most famous and used in Vietnam. Or else, you can use Grab as the driver will follow the route on app.
Motorbike taxi (Or Xeom in Vietnamese):
Motorbike taxi is still available not only in Hanoi but also in Vietnam.
Most of tourists will meet them right after they get off the bus from airport, and immediately, tourists will be dragged, which makes them quite scared and confused. The most popular scam is "Go first, money later" and they are sure to have lower fee compared to taxi. But after that, you will get charged with such a high price, sometimes even higher than a taxi trip.
Motorbike taxi is still a good choice of transport
Or the same as taxi, some motorbike taxi drivers go around to raise the fee.
How to avoid:
First, I highly recommend you to choose taxi to go to hotel instead of motorbike taxi when you first get off the airport taxi. You should ignore them and say "No".
If you want to try this transportation, you can book a drive on Grab apps. Or if you are in hurry, you should check the price on apps then deal the price with the driver at the beginning.
Or if you just want to get a local experience, contact AZ Local Trip for the experience with Hanoi motorbike tour with professional guide.
Cyclo scams:
Cyclo might be something not usual in most western country, tourists might be curious about that transportation.
Recently there was a case that, two French tourists hired cyclo drivers to go around for 1 hour for 600 thousand VND (Which was 4 times higher than the normal price). At the end of the trip, two French tourists gave the cyclo 1.5 million.
Later, the cyclo driver returned two French tourists 900 thousand VND (one 500 thousand VND and two two hundred thousand VND), but it was joss paper which could not be used for purchasing.
900,000 VND in joss paper.
Watch carefully the notes you take from other people. If there is the word "ĐịaPhủ" on that, that means it is joss paper.
2. Street scams:
Pickpocket scams:
This is the first of Hanoi scams that tourists can easily face.
Tourist attractions are favorite spots for pickpockets. They often go in pairs, or sometimes alone. They ride on motorbike, approach their victims and suddenly snatch their handbags, necklaces, cell phones… then ride away.
Always keep an eye on your property
In addition, some robbery has happened in some hotels, when money is stolen in hotel rooms. The thieves are careful not to take the whole amount from the wallet. Some of them are the housekeeping staff, just take a few bank notes so clients do not notice straight away.
How to avoid:
You should not leave your wallet in your hotel if you have any suspicion that the staff or less than honest.
Always be wary of strangers who approach you.
Fake beggars/charity scams:
The next Hanoi scams I want to mention here is fake beggars you can easily meet on the street. Most of them are in a system earning money on the streets. Even some of children and handicapped people are in this system. If you give them money, the money will not go to these children or handicapped people but to people managing them.
There are also some cases when people try to trick you buy offering some toothpick package which is only about 1.000 VND, but they tell the price is 500.000 VND.
How to avoid:
The good way to treat the beggars is feed them instead of giving them money. You can buy a bread or some fruit for them if you feel poor for them.
3. Street vendors:
Street vendors are the interesting street image not only in Vietnam but also in some countries in Asian, which could not easily be found in Western country. As a result, foreign tourist are really interested in those with food baskets and conical leaf hat.
Buy their things but remember to bargain
However, sometimes, this Hanoi scam is that they can be so troublesome and annoyed for tourists while they are walking. Some vendors would offer to lend you a fruit basket and invite you to take photos. After taking pictures, they will demand a fee, a tip or a purchase of their products. And you will be hounded until you pay.
Or even they just take out the money from your wallet/purse like this woman, the street vendor took out of her purse 700,000 VND for this "Banh ran" bag which was only supposed to be around 30,000 VND
700,000 for a small bag of "Banh ran"
How to avoid:
You should politely but firmly say "No"with street vendors. You can obviously buy their products. But do not take photos with their hangers.
4. Shoe Cleaners/Repairers:
You are should aware of people who try to touch or apply anything on your foot wears.
If you wear shoes, and walking around the Old Quarter, there might be some men try to approach you and apply a solvent that dissolves stitches if you don't notice.
Or if you wear sandals they might approach, grab your ankles and get your footwear. Then, they took tools like knives, glue and arbitrarily fix your footwear.
In both cases these men usually try to take you at least 500,000 VND to fix. That's nonsense, just try to pay a notice to people who try to approach you.
These are main scams you will met when you travel to Hanoi. Try to remember the way to avoid it and you will not get into trouble.
For more information, feel free to contact us – AZ Local Trip to get further recommendation as well as explanations to get the best trip in Vietnam.