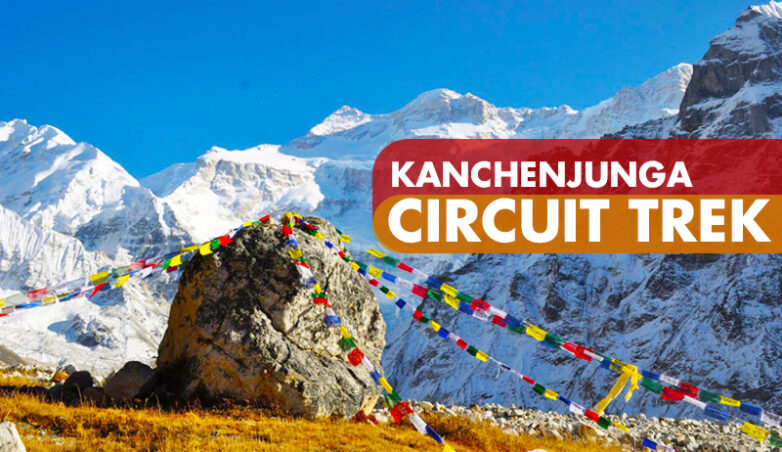 Introduction of Kanchenjunga Circuit Trek :
One of the great Himalayan Trek is the Kanchenjunga Circuit Trek, the eastern part of Nepal is covered by it. "Kanchenjunga" term means the crystal clear in Nepali. The third highest peak in the world is Kanchenjunga, and it is also famous as the "Five Treasures of the Great Snow",i.e. Gold, Silver, Stone, Grain, Precious, and Holy Scriptures. Kanchenjunga is situated in North-East Nepal and is bordered by Sikkim, India. Kanchenjunga is the third highest peak and can see it from Bhutan, India, and Tibet.
The trail towards the Kanchenjunga circuit passes through the most delightful regions of Nepal Arun Valley. The main highlight of the journey, which is the Kanchenjunga Conservation Area is the home of many flora and fauna and various wildlife. Route of basecamp offers the various landscapes of alpine grasslands to the subtropical forest, glacial moraine, low river valley, and rocky scree slopes. From Base Camp, many stunning panoramic views of massive mountains can be seen, including the world's tallest peak Mount Everest (8848 m)
Area Type: Conservation Area :
Kanchenjunga Conservation Area was designated in March 1998. It was named after Mt. Kanchenjunga is the second-highest mountain in Nepal and the third highest mountain in the world. With an area of 2035 sq. km. Kanchenjunga is situated at the northeast corner of Nepal. Mount Kanchenjunga is famous for trekking, Exploration, hiking, and mountaineering.
It requires permits of the Kanchenjunga Conservation Area to travel or to summit the Mountain. Only foreigners are required to obtain the entry permit of the Kanchenjunga Conservation Area. Thousands of tourists summit Mount Kanchenjunga and Kanchenjunga Base Camp. Kanchenjunga Conservation Area is home to many endangered wildlife, flora, and fauna.
Do you need a TIMS permit to trek to Kanchenjunga Circuit?
To do Kanchenjunga Circuit Trek you don't need a TIMS card trekking. When you're holding a restricted permit in any trekking region of Nepal, you don't need any TIMS Card. TIMS is mainly necessary if you're traveling to a destination like Annapurna and Langtang. In the Everest region also the TIMS permit is not required.
How many permits are required to go on a Kanchenjunga Circuit trek :
Kanchenjunga is well known for its difficulty level and the beautiful areas near it. Many tourists trek to Kanchenjunga for Mountaineering, Trekking, and Exploration. It takes more than 15 days to reach Kanchenjunga Base Camp. As Kanchenjunga falls under the Kanchenjunga Conservation Area, it requires permits from the National Park also. But to reach Base Camp, you'll need two permits which are from National Park and Restricted Area. For SAARC nation citizens, the rate of the permit will be less. TIMS is not necessary for Kanchenjunga Circuit Trek.
Permits and fees for Kanchenjunga Circuit trek :
Mount Kanchenjunga falls under the Kanchenjunga Conservation area. It requires some extra permits to go on a trek also. There are different costs and different permits according to diverse nation citizens also it depends. There are mainly two types of permits that are needed to trek Kanchenjunga Circuit. There are different rates according to various citizens like for Foreigners, for SAARC country members, for Nepali, and a child under ten years.
Permit Types
| | | | | |
| --- | --- | --- | --- | --- |
| Permit Types | Foreign | SAARC | Nepali | Child under 10 |
| Kanchenjunga National Park fee | USD 20 | NPR 1,000 | NPR 100 | Free |
| Kanchenjunga Restricted Area Permit Fee | USD 20/week | USD 20/week | Free | Free |
| Minimum of 3 Week permit | USD 20×3 week | USD 20×3 week | Free | Free |
| Total cost | USD 80/per person | USD 70 | USD 1 | Free |
Where to get a Permit for Kanchenjunga Circuit Trek :
From the Trekking Department of Nepal Immigration office in Maitighar, Kathmandu all the restricted trekking permits including the Kanchenjunga trek permit will be issued. Nepal Tourism Board and TAAN don't issue restricted permits, but other licenses such as Everest Base Camp, ACAP, and MCAP are published here.
Information needed for Kanchenjunga Circuit Trek Permits :
If any trekkers would meet the government requirements as it is said, then after providing the required documents to your local trekking company, you can apply for your permit. The detailed information necessary are:
Original Passport
Nepal entry visa with the arrival stamp
Two Passport size photos
Travel Insurance for emergency evacuation up to 6000m
Required fees
Conclusion :
Trekking to Kanchenjunga Circuit requires some legal documents and permits. To reach Kanchenjunga you'll need two permits: one is for the Kanchenjunga Conservation Area, and another one is for a Restricted Area. Permits are of different costs according to national citizens. For SAARC nation citizens, it would be too profitable. There are many more things to be seen on the journey to Kanchenjunga Circuit.
Read More :